Bodh Gaya • 29 January, 2019
Buddha Shakyamuni had compassion for all sentient beings equally, not more for one being over another, all were equal in his compassion. All sentient beings have a lot of suffering and sickness, so to help relieve the sickness brings great merit and is wonderful.
The purpose of the Kagyu Monlam is to alleviate the suffering of all beings. This is also the wish of His Holiness the Karmapa. So if we are able to alleviate the suffering of dogs, cats, cows and other animals through this animal camp, it is in accordance with the wishes of both His Holiness and the Kagyu Monlam in general.
— Gyaltsab Rinpoche's words of advice to staff at the Animal Medical Camp
The 2019 programme includes a major training initiative:
one vet and one para-vet from Tibet Charity in Dharamsala will learn about street dog ABC-AR;
four para-vets from Jangsa Animal Saving Trust, Bhutan, will learn humane animal handling, street dog capture, small animal surgical nursing, kennel management and other aspects of animal shelter nursing;
twelve nuns from six different Kagyu Nunneries, who are attending Arya Kshema, will train in animal first aid, rabies control, treating skin wounds, giving injections, and dog handling. They will return to their nunneries and become the animal first aid officers for their area. On completion of their training, they will be given a big first- aid box full of medicines, bandaging materials and equipment they need for this important job. This initiative is especially according to the wishes of the Karmapa, who wanted the nuns to have equal opportunity with the monks in this training.
The training is being led by three vets, Dr Diki Palmo from Sikkim, Dr Catherine Schuetze from Australia and Dr Sonia Thakur from Dharamsala Animal Rescue.
It has been funded by the Brigitte Bardot Foundation, whose international programmes director, Bridget Auloy is currently visiting the project.
Australian vet, Dr Catherine Schuetze, discusses how to treat common problems that the nuns will encounter with the dogs and cats in their nunneries, such as eye infections, parasitic infestations, wounds, and maggot-infected wounds. The nuns learn how to clean and dress wounds and how to treat infections and infestations.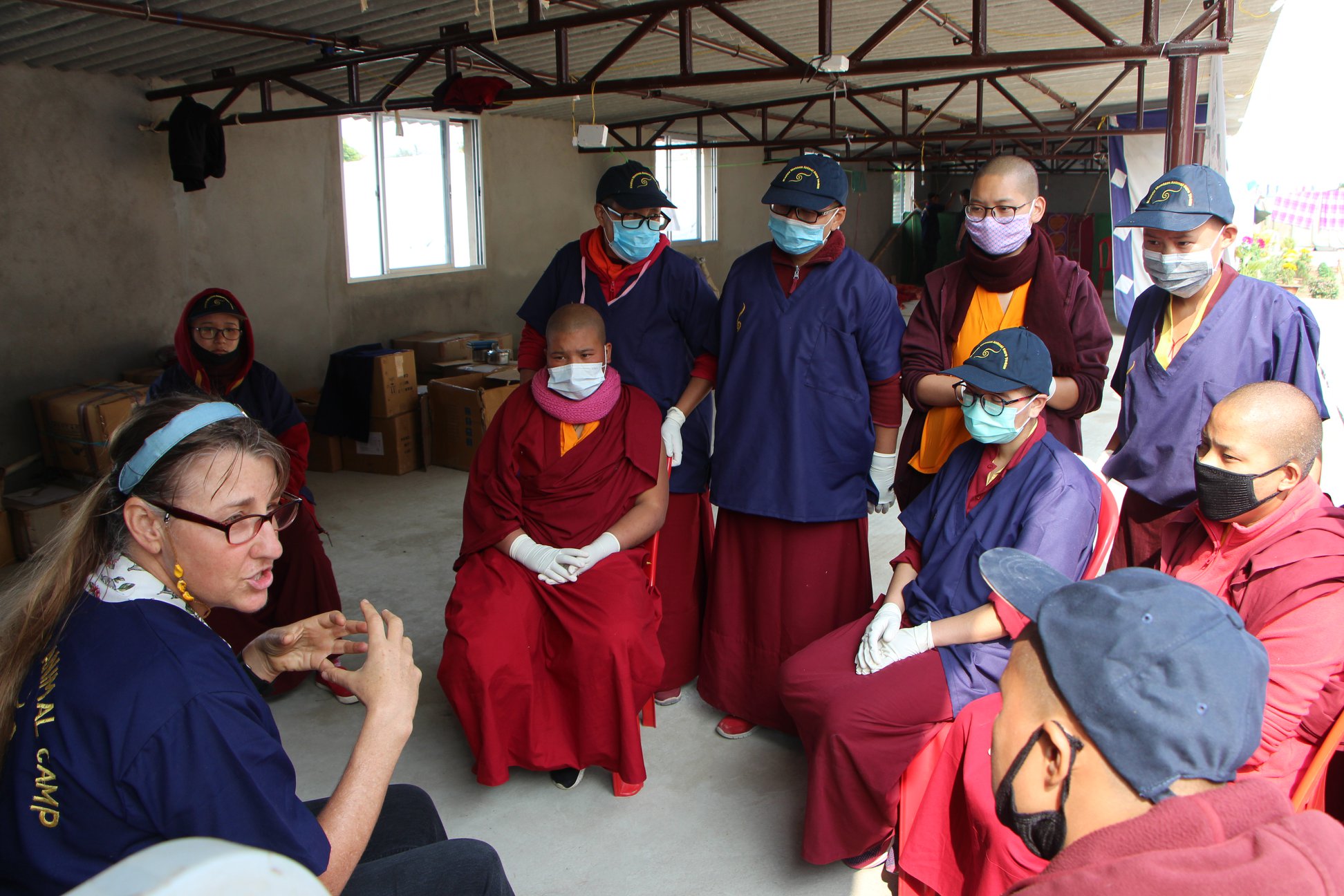 The nuns have to learn how to handle dogs so they must know how to interpret canine behaviour and how to recognise when dogs are dangerous. Dr Diki Palmo gives them a crash-course in canine body language.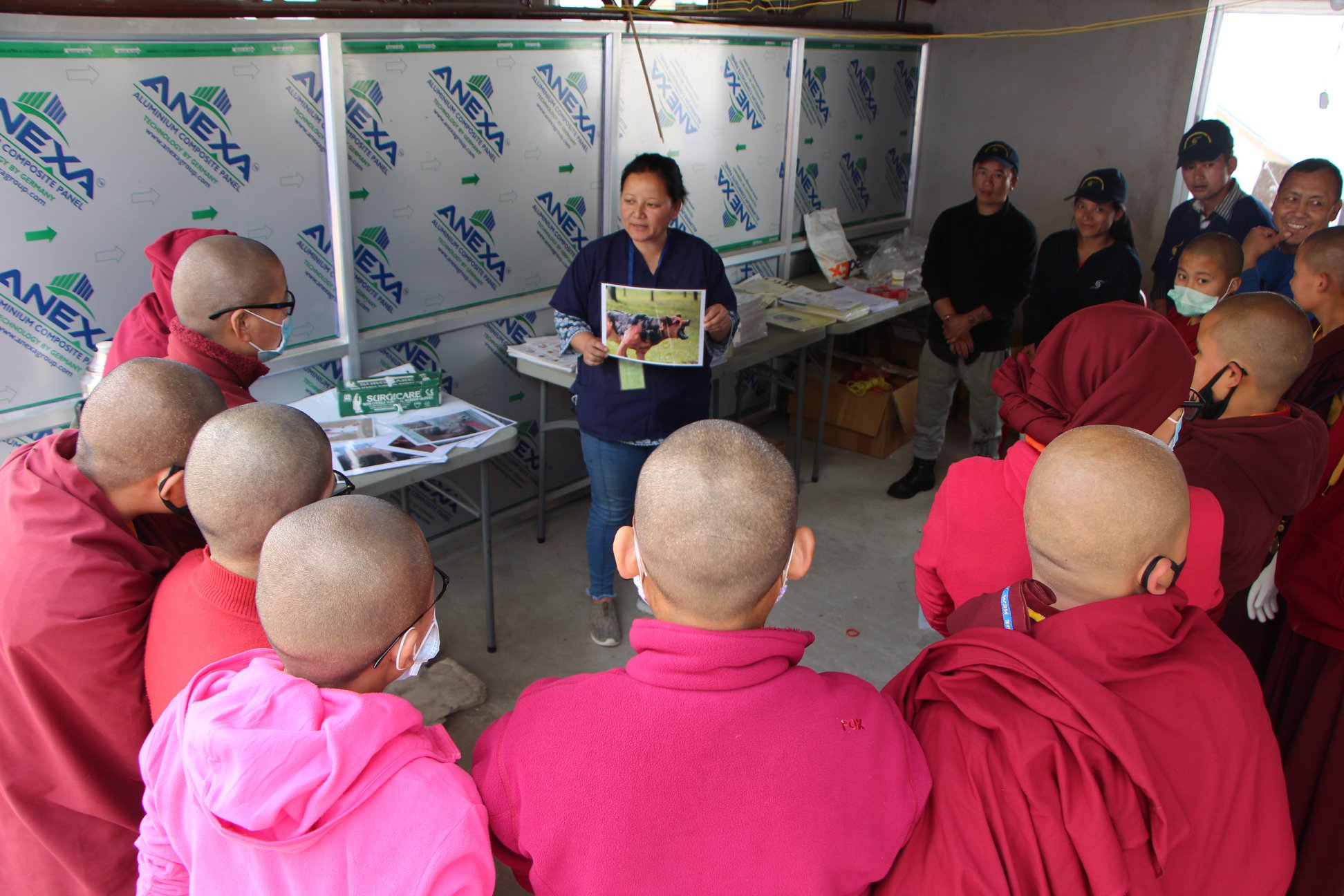 All the nuns come from areas of the Indian sub-continent where rabies is endemic and are naturally wary of dogs, so the training starts with puppies in the morning.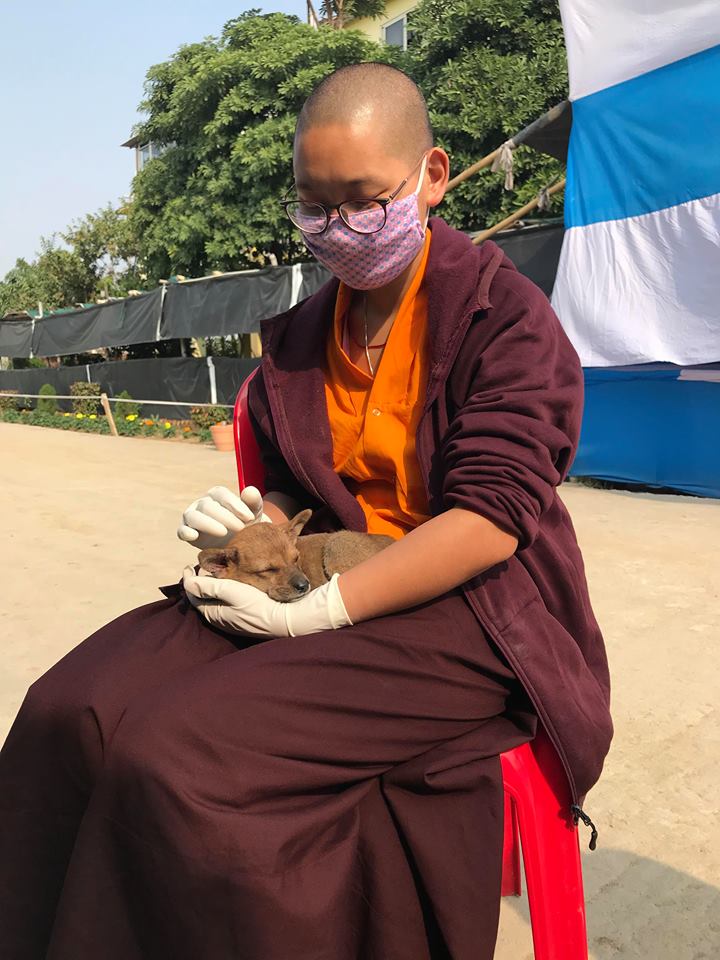 The nuns learn how to approach the dogs and get a slip lead around their neck...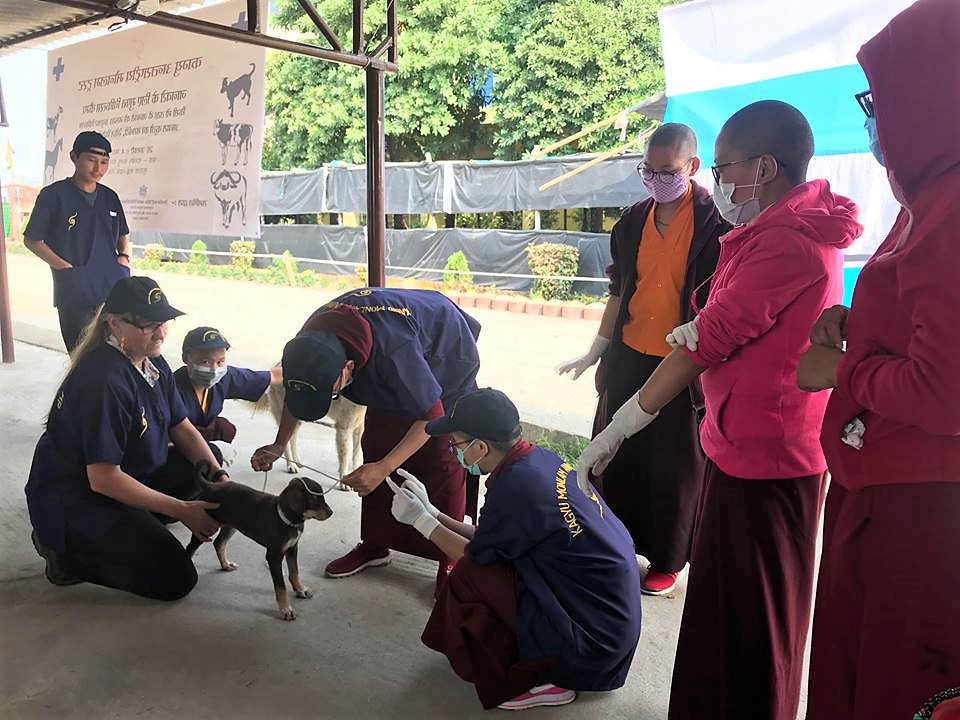 muzzle them with rope...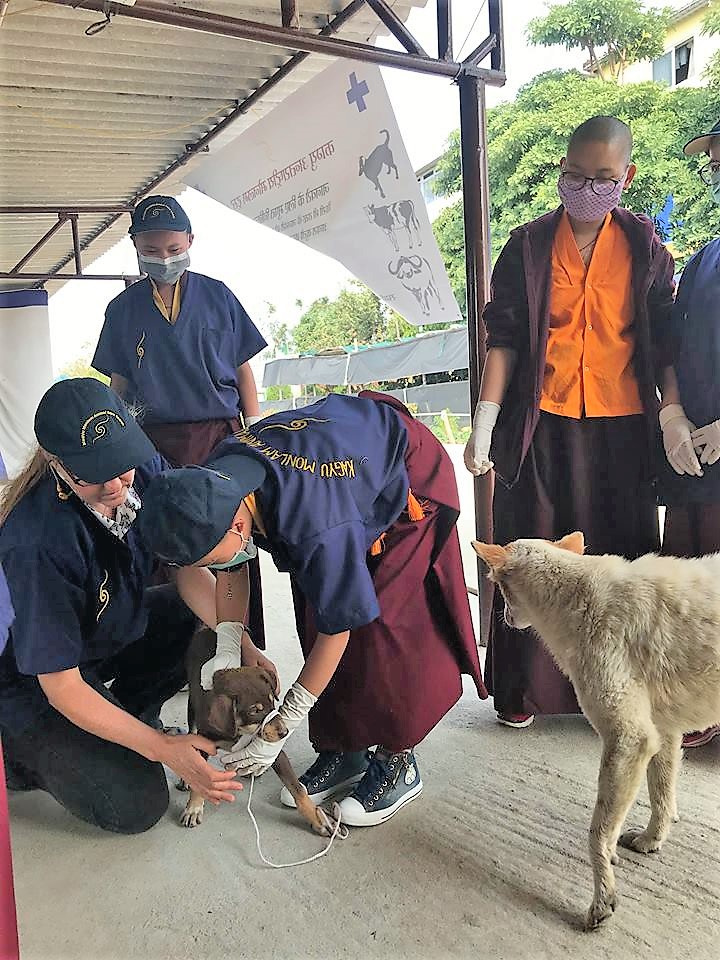 and pick them up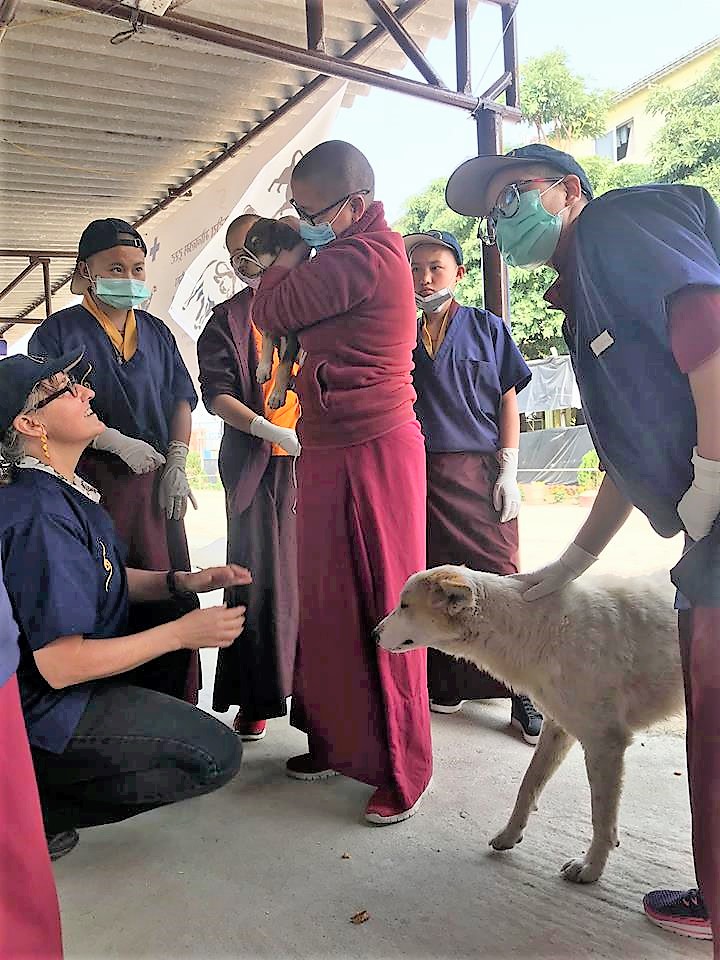 As their confidence grows, they progress to practising their skills on friendly monastery dogs.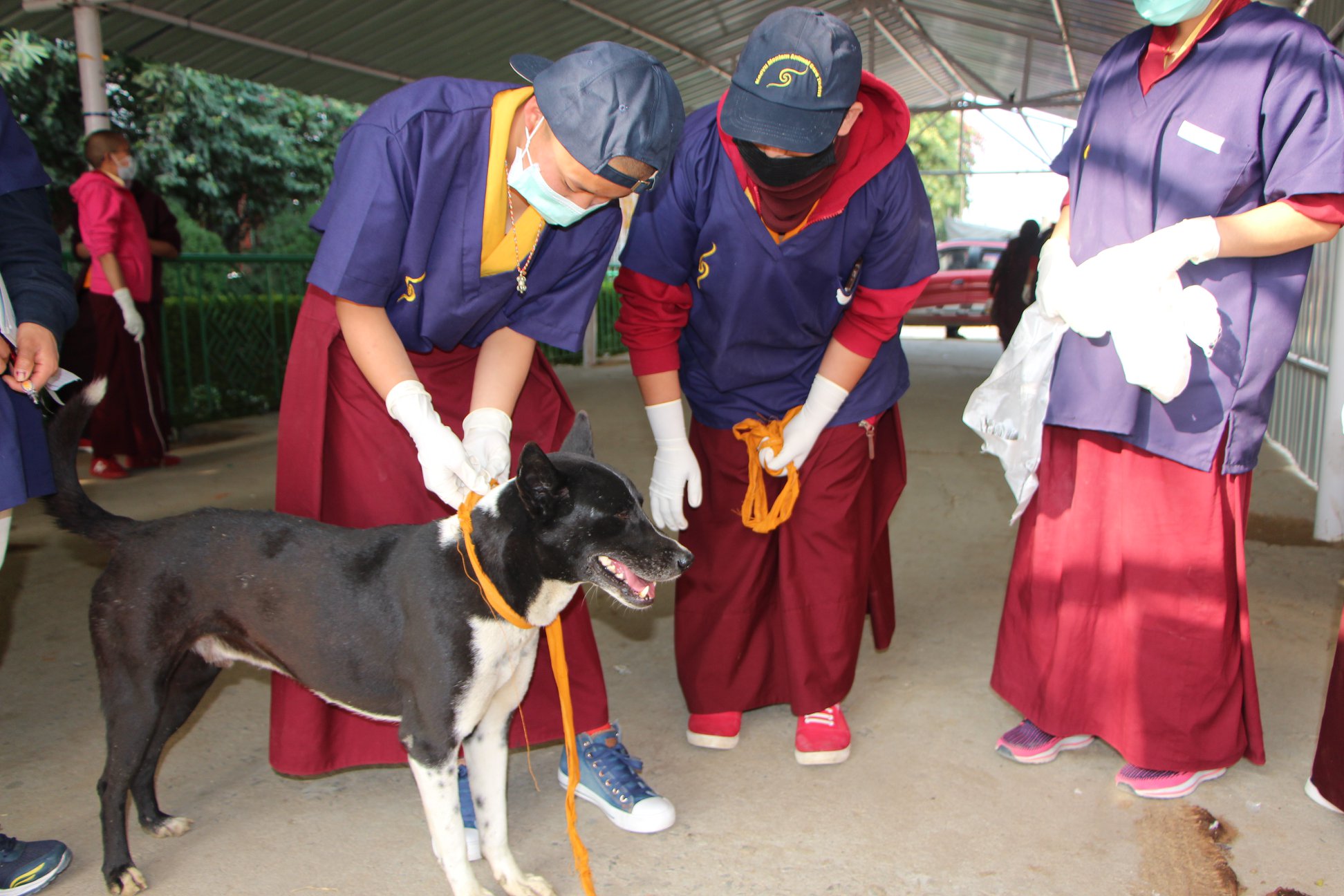 Dr Palmo teaches the nuns how to use a stethoscope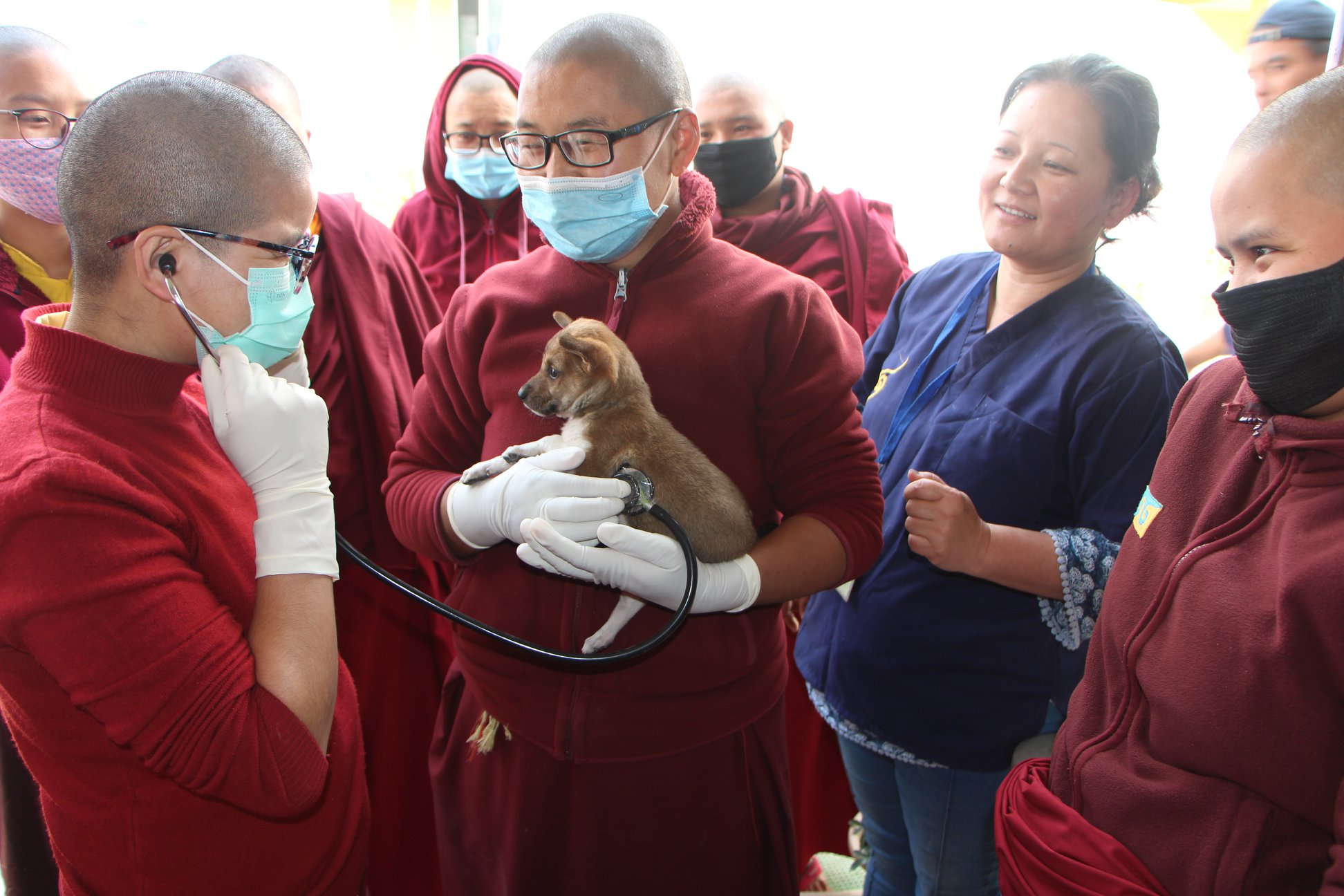 Dr Thakur demonstrates how to give subcutaneous injections; all the nuns soon became confident in giving injections such as rabies vaccinations.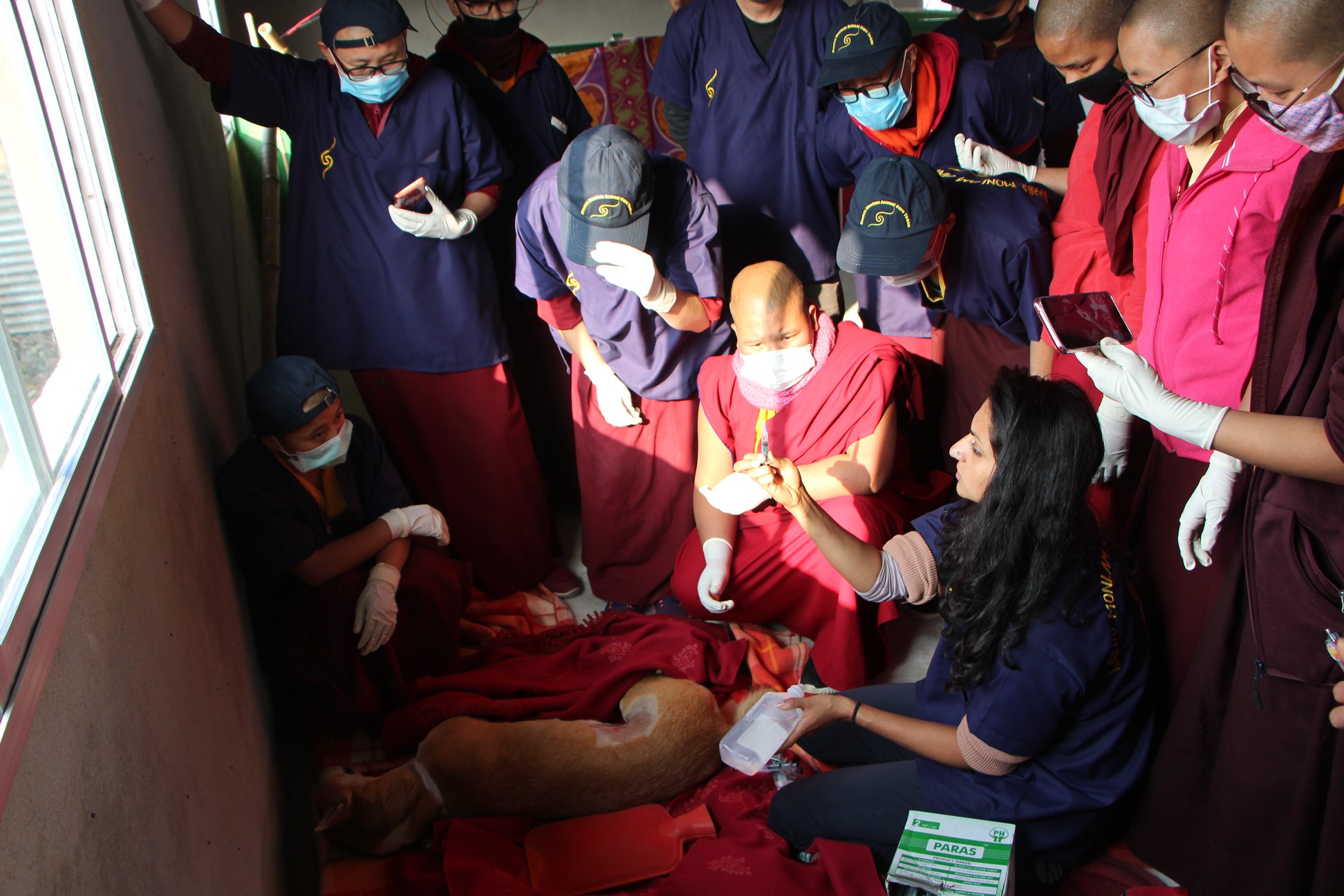 They also learn general nursing skills for sick animals and post-operative care.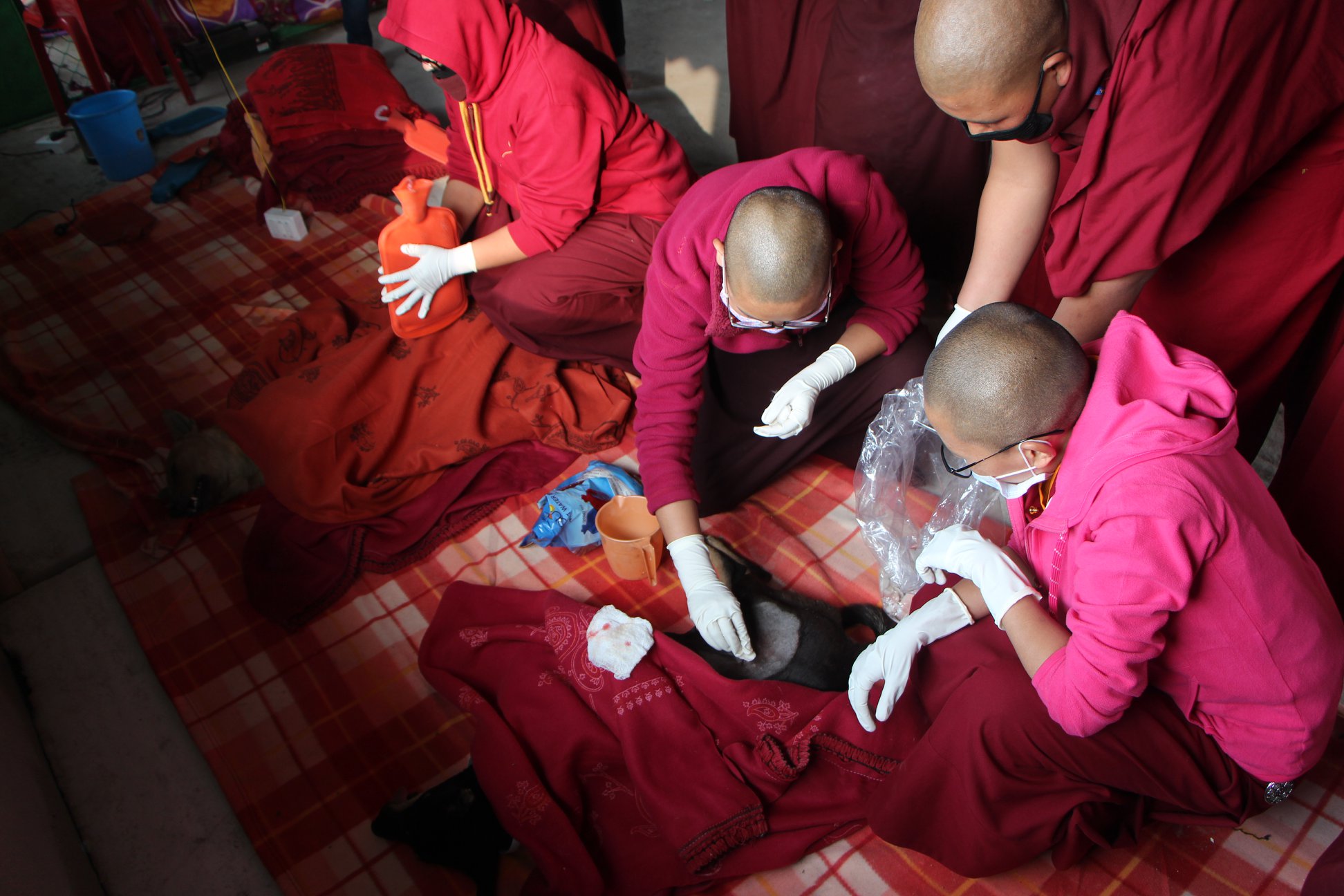 A nun checks the heartbeat of a dog which has been anaesthetised. As part of the initial training, the nuns watched an operation in progress. Only one nun fainted at the sight, but she recovered quickly and has resumed her training.