Latest reports & articles
The Arya Kshema Spring Dharma Teachings: Two Autobiographical Praises by Mikyö Dorje
19th March – 19th April, 2022
The Gyalwang Karmapa will continue his discourse on the life of the Eighth Karmapa Mikyö Dorje, based on two autobiographical praises: The Life of Karmapa Mikyö Dorje Called 'Good Deeds' and The Praise 'He Searched Thoroughly…'
The teachings will last for one month, from 19th March until 19th April, 2022, and will be held on four days per week: Monday, Tuesday, Friday and Saturday.
Session I: 6:30–7:30 pm IST; 9:00 – 10:00 pm UTC; 1:00–2:00 pm GMT
Session II: 8:00–9:00 pm IST; 10:30– 11:30 pm UTC; 2:30–3:30 pm GMT
The teachings will be webcast on YouTube Karmapa Teachings channel, Karmapa Facebook and www.dharmasvara.org. The Gyalwang Karmapa will teach in Tibetan, but simultaneous translation will be available in Chinese, English, French, German, Indonesian, Korean, Nepali, Polish, Portuguese, Spanish, Russian, and Vietnamese. To download textbook, please click https://dharmaebooks.org/tag/8th-karmapa/.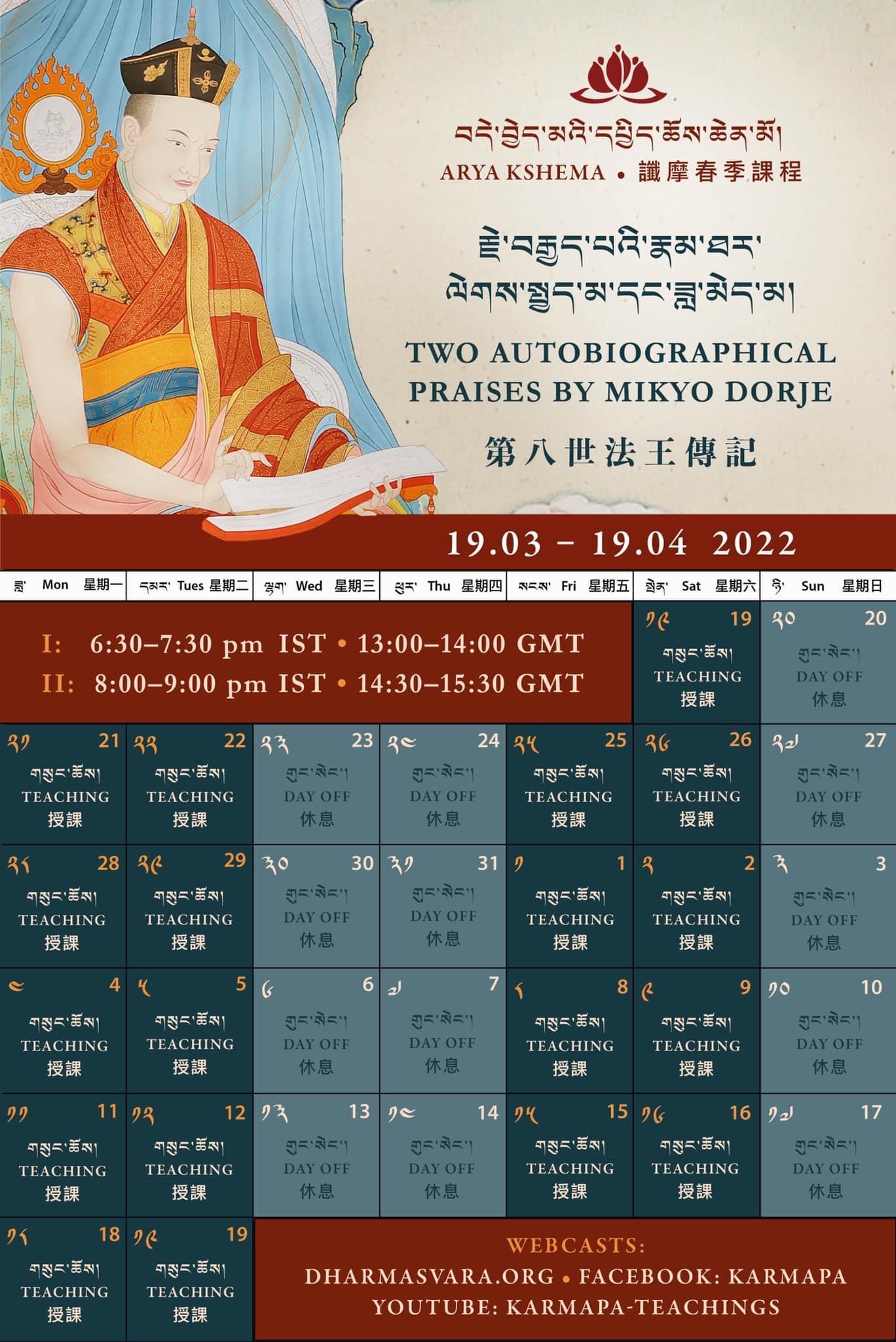 After 900 Years: The Karmapa Revamps Education for Kagyu Nuns
For the first time in the 900 year history of the Kagyu lineage, the 17th Gyalwang Karmapa held the Arya Kshema Winter Dharma Gathering for Kagyu Nuns, an event that heralded a series of educational improvements for the nuns. In this video, the Karmapa shares the origins of this event, and his vision and hopes for the Kagyu nuns.
The First Arya Kshema Winter Dharma Gathering for Kaygu Nuns was held at Tergar Monastery, Bodhgaya, from Jan 20 to February 2, 2014.
The Arya Kshema Winter Dharma Gathering assembles in Bodhgaya, India